Issues regarding your day-to-day challenges
Our Wednesday Webinars are intended to assist practice managers and physicians around issues regarding day-to-day challenges. We've scheduled these during lunchtime so you and your staff won't miss out on these informative sessions! Registration is FREE, but limited to Medical Mutual policyholders.
Scheduled Webinars:
Appropriate Delegation Assures Patient Safety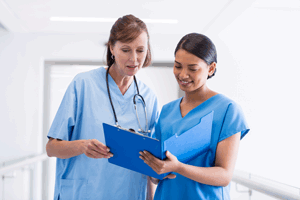 Knowing what, when and to whom tasks should be delegated in an office practice setting is an ongoing challenge. The delegation of medical and non-medical tasks to staff as a practice transitions to team-based care has the potential to increase efficiency, enhance patient safety, and improve both patient and staff satisfaction. Is your practice ready? The delegation of tasks has inherent risks when not implemented appropriately. This webinar will discuss how defining roles and responsibilities will reduce that risk and assure patient safety.
Objectives:
Define delegation of tasks in the office practice setting
Review drivers for delegation and team-based care
Examine regulations and liabilities specific to delegation
Define roles, responsibilities and oversight requirements